With gas prices on the rise again, many people are looking for better ways to reduce the costs. Yes, driving a Ford Fusion may save you from these rising gas prices. The Ford Fusion provides all the benefits of driving a hybrid without limiting occupants to the confined space available in smaller hybrids like the Prius. There are a number of factors affecting how much the Ford Fusion can save you from increasing gas prices.
What Does the Ford Fusion Hybrid Have Under the Hood?
The Ford Fusion Hybrid is powered by a 2.0 L 4-cylinder engine, electric motor and Continuously variable transmission. This hybrid goes 0 to 60 mph in 9.1 seconds and has a power output of 188 horsepower. The combined fuel economy for the Fusion Hybrid is projected to be 42 mpg, with 43 mpg in the city and 41 mpg traveling on the highway. In contrast, the combined fuel economy for the gas-powered Fusion is 27 mpg.
Riding Around in the Ford Fusion Hybrid
Interestingly enough, auto experts say that the way we drive is actually the biggest factor affecting any vehicle's fuel economy. Researchers at Edmunds have determined that easier braking, lighter acceleration, and slower driving can provide up to 37 percent in fuel savings. Maintaining a constant speed also improves fuel economy. Consumer reports claim that compact cars consume as much gas as SUVs when accelerating from 55 to 75 mph.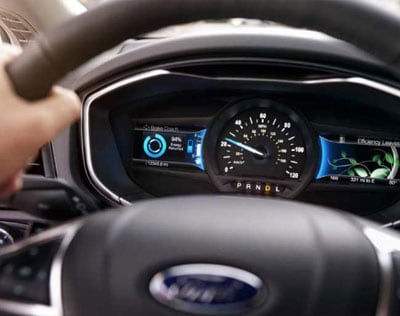 Consumer Reports found that the gas tank drains faster when the vehicle is traveling over 55 mph. Increasing from 55 mph to 66 mph costs 4 and 8 mpg while increasing up to 75 mph costs another 5 to 7 mpg. When you're traveling 55 mph, and you decide to speed up to 75 mph, you could be sacrificing another 15 mpg. Keeping the tires properly inflated and using less AC can also improve fuel economy.
Will I Save Money Driving A Hybrid?
Compared to the average new vehicle with a fuel economy of 27 mpg, the Ford Fusion Hybrid, on average, could save you over $1,000 per year or more than $2,700 over 5 years. Equipped with a 14-gallon gas tank, this Ford hybrid has an estimated driving range of 588 miles. This hybrid can be driven up to 100 miles on less than 2.5 gallons of gas.
Over a span of 15,000 miles, driving the Ford Fusion Hybrid can save you close to 70 gallons in gas. If you're interested in finding more about how the Ford Fusion can save you from rising gas prices, head down to Gwinnett Place Ford and check out some of the different models in person.
* Based on 2018 EPA mileage ratings. Use for comparison purposes only. Your mileage will vary depending on how you drive and maintain your vehicle.