Now you can have your Mustang EcoBoost and burnout too! Previously, only select Mustang models like the V8-equipped GT allowed drivers to smoke the tires. Now, Ford is bringing burnout mode to every Mustang for the new model year!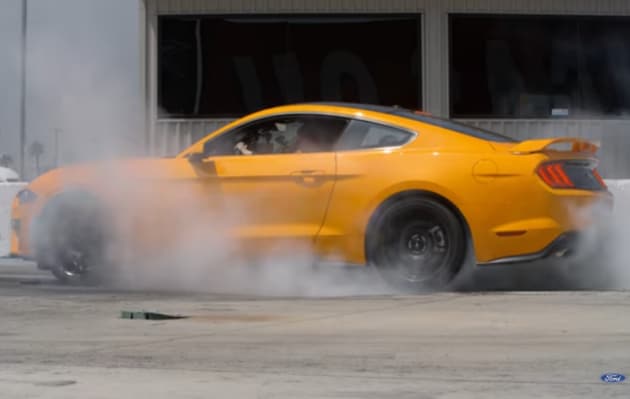 Starting this fall, all 2018 Mustangs with the 2.3-liter turbocharged four-cylinder EcoBoost will come standard with a feature called Line Lock, which makes it possible to do burnouts so you can make some smoke and show off to all your friends on track days. Get details below to learn all about Line Lock now!

Why Are Burnouts Beneficial or Considered Cool?
Before racing down the strip, heating up the tires ensures better traction. You should always wet your tires prior to doing a burnout. Most tracks have a burnout box for this purpose. Additionally, using Line Lock virtually eliminates wear on the rear brake pads. With regular standing burnouts that don't use a Line Lock, the brake pads incur swift damage.
How to Use Line Lock on the Ford Mustang EcoBoost:
Keep your foot on the brake and take the handbrake off
Press the Pony button on the steering wheel
Choose Track Apps
Choose Line Lock
Hold OK until you see the Line Lock screen
Put the clutch in
Put the car in first gear
Give the car a little gas
Let out the clutch
What Is Line Lock Exactly?
Line Lock allows drivers to lock the front brakes while the rear brakes remain open. In this state, the rear tires can spin and create smoke, or do a burnout, while the front tires stay safely in place. In addition to brake stands, line lock is sometimes used in other actions, such as launching.
In addition to the video and step-by-step instructions above, check out the Ford Mustang EcoBoost Line Lock infographic below to see how to use the feature.