Where Can I Trade In My Car In Duluth?
If you're wondering "where can I find a place to trade in my car in Duluth?", it's right here at our dealership. We are proud to provide a large inventory of quality vehicles that help people choose their favorite new or used car. What's more, is that we also have an auto trade-in program that lets you evaluate the current worth of your vehicle and turn it into us.
In exchange, you'll be able to get a new or pre-owned car that you want at a better price. And if that's not good enough, our program is designed to ensure that everyone has the opportunity to get a new car. We do this by offering an easy three-step process for trading in a new car and driving home with your dream vehicle. Perhaps you've been thinking that the all-new Ford Explorer is a good upgrade for your family this year, or you like the sounds of the sleek Ford Fusion.
Our trade-in process is simple, and it's also available to a variety of car owners. One question that many customers have is what happens if they currently have a loan out on their vehicle. Does that stop them from participating in the trade-in program? Fortunately, the answer is no. Even if you still have a loan out on the car you're driving now, you are eligible to get a car through our trade-in program
We simply provide you with an estimate of what your car is currently worth. Then, we give you credit towards getting a new car. You can use the resources to pay off the current loan on your car. But if the value of your car doesn't quite match what the loan payment requires, you can simply roll the balance over to the next car loan payment. This lets you start driving your dream Ford sooner, which is something every car owner wants.
How Much Is My Car Worth?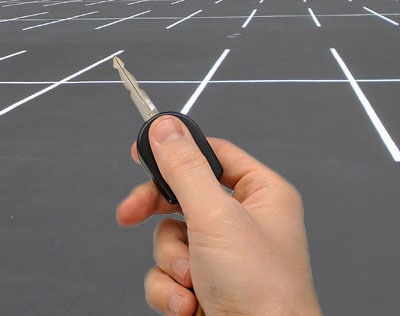 Now that you see the benefits of trading in your car, you'll want to figure out how much your vehicle is currently worth. For this, we have an online calculator that takes many factors into the equation of figuring out what your car's value is. Although the calculation is sophisticated and complex, the tool is quite easy to use. All you need to do is add vital information about your vehicle like its age, the make, model, and trim, and any luxury amenities or packages that you've added on to it.
While the form is easy to use, it's important to be as specific and detailed as you can when you're adding information about your car. This will give you the best estimate as to what kind of a payment you can expect to get. When you bring your car in, we look it over to assess its condition. Lastly, we make you an offer.
What Can I Trade My Car In For?
With the money that you earn from trading in your car, the next logical step in the trade-in process is exploring our inventory. We have a number of premium new and used cars to choose from, which means there are plenty of compelling options. Some cars you might find in stock are the F-150, the Explorer, and the Edge. If you see the car you want in stock, contact us as soon as possible to arrange a test drive, as it might not be around long. If you don't see your favorite vehicle on the market, however, keep checking back, as we're always adding cars.