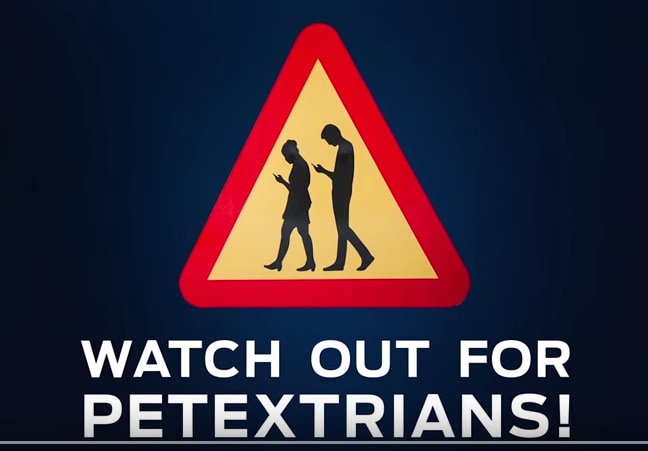 When you're not driving, are you guilty of being a distracted walker? Today, more people than ever text while walking, which can create a dangerous scenario for anyone behind the wheel.
Ford aims to prevent accidents caused in these situations using new technology called Pre-Collision Assist with Pedestrian Detection, a system available on the 2017 Ford Fusion. The technology helps drivers avoid petextrians who may inadvertently cross the street at the wrong time or walk into traffic because they're paying too much attention to their smartphone.
Petextrians have caused an epidemic of distracted walking, which some countries have responded to with interesting measures. In Germany, walking over tram tracks became such a problem that authorities installed a strip of red ground lights to warn pedestrians not to cross the line. Even in the states, a small town in Idaho fines pedestrians who text while crossing the street.
Ford's new Pre-Collision Assist with Pedestrian Detection system takes another step, helping protect drivers who may be caught off guard by the actions of petextrians.
The technology actually predicts human movement, and uses smart radar and camera technology to detect obstacles. Visual and audio warnings are given to the driver in the event that a collision appears imminent, and if the driver does not react in time, the system automatically applies full braking force to mitigate or entirely prevent an accident. The system works at speeds up to 50 mph.
When creating the algorithm for the system, which can recognize people of all shapes and sizes, Aaron Mills, Ford safety engineer, said:
"We were startled to see how oblivious people could be of a 4,000-pound car coming toward them," he says. "It was a real eye-opener to how distracted people are today."
The system's pedestrian detection ability is founded on 240 terabytes of data, which is equivalent to roughly 20.4 trillion books. So calling the technology smart is certainly no exaggeration.
If you want a car that watches out for you and others, come check out the new 2017 Ford Fusion at our dealership in Duluth, GA, and ask your associate for even more details about Pre-Collision Assist with Pedestrian Detection.