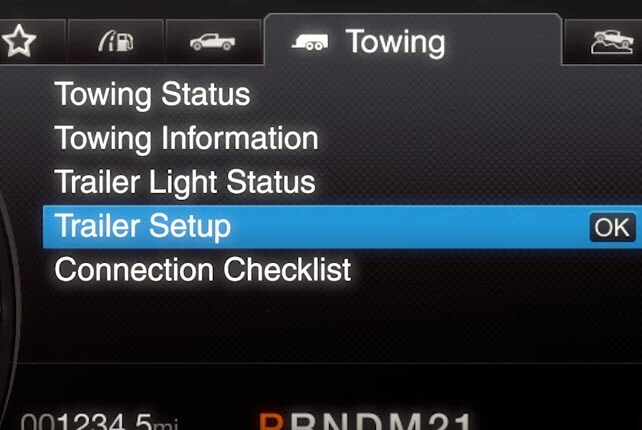 If you own a Ford Super Duty, we can imagine you'll probably use it to tow a trailer at some point, or perhaps quite often for work or recreation. If you own or plan to purchase a model with the Trailer Reverse Guidance system, you're in luck because it makes life easier when towing trailers, whether they have a single or double axle.
See step-by-step guidelines below in addition to checking out the video.
WHAT YOU'LL NEED TO GET STARTED
Your quick start setup guide
The checkered sticker you received with the guide
A tape measure and pen or pencil
A buddy who can assist you with setup (optional but handy at certain points)
SETTING UP THE SYSTEM
Make sure you're on a level surface and then connect your truck and trailer. A draw bar is convenient to help position your trailer level.
Now drive forward at least a few feet to align your truck and trailer.
Use the five-way controls on your steering wheel and navigate to the Towing menu. From this point, choose Trailer Setup, Add Trailer and then click OK.
Input a name for your trailer in the system using the up, down, left and right arrows on your steering wheel. Click OK when complete.
Choose your Trailer Brake Type and click OK.
Choose the Trailer Brake Effort (Low, Medium or High) and click OK. Low is often suggested for the majority of trailers. However, if you've got a larger trailer that needs more impactful braking, choose Medium or High.
Under Trailer Setup, select the type of trailer. Please keep in mind that most of the automatic features included with Trailer Reverse Guidance are only offered with conventional trailers. If you have a fifth-wheel or gooseneck trailer, you can still use the system views, but keep in mind that you will not have access to some of the automatic features.
On models with the Ford Blind Spot Information System (BLIS), you will be prompted to set up your trailer BLIS feature.
Next, you'll see a message asking if you want to add Trailer Reverse Guidance. Select Yes.
TAKING MEASUREMENTS FOR SYSTEM INPUT
First, get out that checkered sticker and place it 7 inches to 22 inches from the trailer ball hitch. Make sure you place it on a flat horizontal surface where it's within the backup camera's view. Placement is essential because it's how the direction of the trailer's movement is detected. Once the sticker is placed, write down measurements for the following using horizontal distances:
License plate to center of ball hitch
Center of ball hitch to center of sticker
Rearview camera to center of sticker
Tailgate to center of trailer axle for single axle or tailgate to center point between two axles
ENTERING MEASUREMENTS INTO SYSTEM
Use the up and down steering wheel controls to increase or decrease the numbers when entering measurements. Press OK to confirm each until the system displays all measurements that you've entered. If they're correct, click Confirm and OK.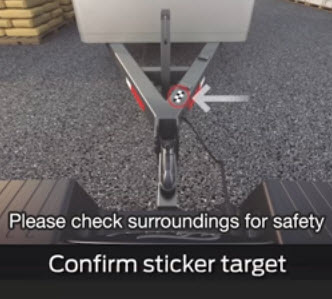 CONFIRM STICKER POSITION
The backup camera and Trailer Reverse Guidance system will start to scan for the sticker. When detected, the information display will show the sticker with a red circle around it. Press Yes to confirm its position. At this point, you'll receive a confirmation message.
In addition, if the system doesn't properly circle the sticker, you'll need to reassess your measurements, check to make sure the truck and trailer are aligned, and reenter the measurements.
FINAL STEP
To confirm calibration, you must drive straight going anywhere from 4 mph to 25 mph until you receive a message to stop driving. Now, your measurements are conveniently saved for future travels. However, if you use a different trailer, you will have to start the process from scratch.
We hope these instructions help you seamlessly set up your Ford truck's Trailer Reverse Guidance system. Please contact us with any further inquiries. Happy trailering!