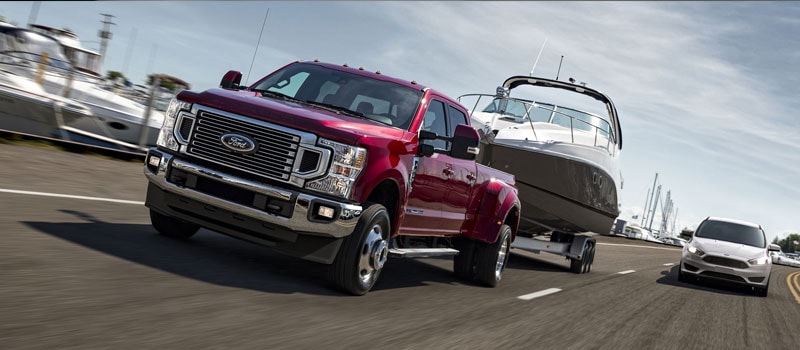 Ford has returned to the V8 for its Super Duty trucks and in the process has added best-in-class horsepower and torque. Nicknamed "Godzilla" inside the Ford truck division, the new 7.3L V8 may truly be the king of the monsters. Boasting an output of 430 hp and 475 ft. lbs. of torque, Godzilla exceeds the output of both U.S. competitors in the gas-powered engine class.
There are some features which helped engineers reach such a lofty output. Ford went back to the Overhead Valve design (OHV), where the camshaft is positioned inside the engine block. Pushrods are used to operate the valves. This configuration has an added bonus of making a narrower engine, allowing it to be placed in the engine compartments of the smaller models. It also allowed Ford to increase the displacement with larger pistons and cylinders. It will be paired with a new 10-speed automatic transmission.
Additional features include:
Piston cooling jets to keep engine operating temperature lower and prolong the life of the motor
Variable cam timing for increased efficiency
A new forged steel crankshaft
A heavy duty cast iron engine block
All new cylinder heads
Larger main bearings
A new oil pump to keep oil pressure where it is needed
The new 7.3L will replace the long-running V10 engine as the flagship of gas-powered engines. This new beast will become available on the F-250 and F-350 models. A different version will become standard on the heavy duty Ford trucks, including the F-450, F-550 and the F-600. Ford will continue to offer the smaller 6.2L V8 as well as the 6.7L powerstroke diesel engine.
At Gwinnett Place Ford, we know that truck buying is a serious business for serious jobs. This is one reason we are excited about the new 7.3L V8; it provides the power to handle any job in its class. We are especially proud to say that it is best-in-class. To experience the capabilities of the new Ford trucks with the 7.3L V8, stop by our showroom in Duluth, GA and test drive one or two. Be sure to have your questions ready, both about the truck lines we carry and options for financing. Our team will be happy to answer them.