Atlanta Ford Dealer Researches the New E-150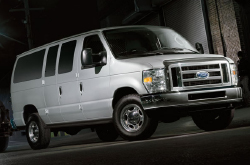 Join us at Gwinnett Place Ford for an up-close look at the versatile 2013 Ford E-Series vans in Atlanta. There's almost nothing you can't move with one of these babies! The base E-150 starts you off with the ability to tow up to 7,000 pounds - sufficient for most of our Duluth, GA entrepreneurs. For the rest of you, the E-350 offers a carrying payload of almost 4,000 lbs., plus a 10,000 lb. best-in-class towing capacity. Whether you're carrying construction materials, mechanical parts and tools, or hauling a trailer, you've got the muscle it takes to get the job done. You can count on Ford reliability in the E-Series, which has been a top choice for decades as it keeps going like the Energizer bunny! And if you hit a snag in the road, E-Series comes standard with a "real" (full-size) spare because the E-Series is serious about getting you - and your cargo - to your Atlanta-area destination. Read on for a full 2013 Ford E-Series review.
Watch a Video on the New E-150
Salient Ford E-150 Specifications
Check out the 2013 Ford E-150 next to versus similar autos like the 2013 Nissan NV, Chevrolet Express, GMC Savana and the Mercedes Benz Sprinter, and you will notice that the 2013 E-150 outshines those vehicles in gobs areas. Get a load of the reasons see why!
2013 Ford E-150 MPG: 13 city / 17 highway
2013 Ford E-150 Colors: Vermillion Red, Black, Pueblo Gold, Steel Blue, Oxford White, etc...
2013 Ford E-150 Cargo Space: 237.8 cubic feet
2013 Ford E-150 0-60 MPH in 8.6 seconds
2013 Ford E-150 Body Style(s): Passenger Van
2013 Ford E-150 MSRP: $26,800
2013 Ford E-150 Seats: 2-15 passengers
Ford E-150: Standard & Available Features for 2013
Get Under the Hood: Engine & Powertrain Specs for the 2013 E-150
The 2013 E-150 Was Designed With Your Safety in Mind
Service Information for Atlanta Ford Buyers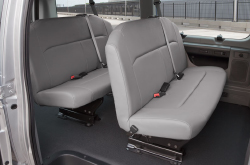 Get a free warranty on repairs - plus access to bona fide Ford parts and amazing Ford technicians - at your premier Atlanta area Ford repair center. The certified technicians at our Ford repair shop in Atlanta will help your E-150 run nicely. Whether you're hunting for cheap muffler repair or less tricky work like air filter replacement or simple oil changes, we'll take care of it! And these things are just a fraction of the jobs we do. For quality Ford repair in Atlanta, drive your E-150 to Gwinnett Place Ford, where you can always get professional service. Get astounding savings - before you head over to our repair shop, bring a coupon. Click the link below this paragraph!
Contact our service center day or night using our online form
2013 E-Series Van Reviews Well in Atlanta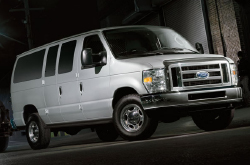 Now that you've seen the Atlanta E-Series review video and the impressive list of 2013 E-150, E-250, and E-350 features, we'd like to invite you to enjoy the comfort of the captain's chair while you feel the power of an E-350's 6.8-liter V10 engine. It's so comforting to know you're driving a vehicle capable of getting the job done. The integrated Trailer Brake Controller will give you peace of mind when pulling heavy cargo. Whether the priority is to deliver your payload on-time or bring a group of passengers safely to and from Atlanta or other destinations, the Ford E-Series vans have you covered with a variety of option packages for cargo or seating. Use the handy contact form on this page or give us a call at Gwinnett Place Ford, and we'll answer any questions you have and invite you to drive an E-Series van or wagon. You'll see how Ford's E-Series can make life easier in Atlanta ? visit us soon!