About Gwinnett Place Ford Expedition Reviews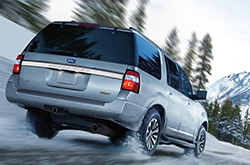 Some may be surprised that full-sized SUVs still command a considerable market share, but if you have a big family or lots of friends, there's nothing quite so spacious as a truck-based SUV. If you pull a camper, boat or heavily loaded trailer, you'll appreciate a powerful, heavy vehicle to perform that job safely. In our 2015 Ford Expedition review, we'll investigate the eight-passenger SUV's power and towing capabilities, safety and security features, along with comfort and convenience amenities. The Expedition has undergone a major refresh since last year, so we'll also outline what you'll find to be new or different as you shop for a 2015 Ford Expedition in Atlanta.
The biggest news is the powertrain changes, and we'll talk about those in a minute. First, a front-end makeover sports a new three-bar formatted grille, halogen projector headlamps, reshaped bumper and newly available LED foglamps. New chrome accents adorn the aft section, while new colors and wheel designs have been added to exterior design choices. Ford added a Platinum trim level which, like the King Ranch trim, has its own interior color combinations and additional exterior accents. These join other trim choices for 2015 - the XL, XLT and Limited - in regular or extended lengths.
As we stated earlier, you welcome a powerful and heavy vehicle to safely tow a fully loaded trailer. The Expedition is a heavy vehicle, which is why we were very interested to see how it would fare when its V8 engine was switched out for the new, more efficient twin-turbo, 365-horsepower V6. Autoblog discussed their test drive of a 6,000-pound, extended length model in their 2015 Ford Expedition review. They noted the big SUV moved effortlessly, cruising quietly and smoothly under full throttle. The new 2015 Expedition is rated to tow up to 9,200 pounds (9,000 in the EL trim).
You'll feel safe and comfortable driving a 2015 Ford Expedition in Atlanta thanks to available systems like blind-spot monitoring, a rearview camera and Ford's "truck apps" which assist in towing and off-road driving tasks. Depending on the trim, you'll be treated to amenities like selectable ambient lighting colors, a 700-watt Sony sound system and keyless entry and ignition. See these features and more in the feature highlights video included as our Expedition review continues.