2015 F-150 Research and Review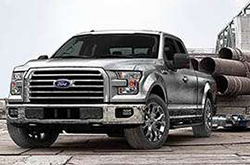 Ford F-Series trucks have reigned over U.S. pickup sales charts for more than three decades and Ford is on track to keep their streak going. Fiercely American, this hard-working and hard-playing icon of ruggedness beckons to people from all walks of life who need a tough partner for transporting anything from dirt to fine antiques and everything in-between. The newly redesigned F-150 has set a new standard and introduced a new benchmark for aspiring competitors. Join us as we discuss the new aluminum body and engine, along with the incredible list of pickup truck equipment "firsts" in our 2015 Ford F-150 review for Atlanta.
The biggest news is the F-150's new "truck of the future" aluminum body which is lighter, but actually stronger and more dent-resistant than the steel body it replaced. When you shop a 2015 Ford F-150 in Atlanta, you'll be able to choose between four different engines - two turbocharged EcoBoosts, a 3.5-liter V6 and 5-liter V8. Incredibly, the smallest half-ton pickup engine ever - the 2.7-liter twin-turbo EcoBoost delivers big. Motortrend tested a four-wheel drive 2015 F-150 Lariat CrewCab with this engine and had only good things to say about it: "The littlest EcoBoost punches well above its weight. Being so small, it spools up quickly and turbo lag is nonexistent." If you're questioning whether the new 2015 Ford F-150 is still "built ford tough," the answer is a resounding yes. As Motortrend attests: "At the end of the day, Ford goes out and does the impossible: It makes the best-selling Ford F-150 even better."
Ford didn't stop at the new body and new powertrain. They also offered up an amazing number of available equipment never before seen in a pickup truck! Check out some of the features you can look for in a 2015 Ford F-150 in Atlanta: remote tailgate locking and release, stowed loading ramps, trailer-hitch spotlight, 170-degree opening half-doors on SuperCabs, 360-degree view camera with hitch align assist and panoramic sunroof. These of course, are in addition to those comfort, convenience and infotainment amenities you'd expect. For more information, check out further specs, photos, a feature-overview video and a truck comparison feature aptly named "dare to compare" as our 2015 Ford F-150 review continues below.