Take a Look Atlanta Ford Shoppers - the Taurus has Arrived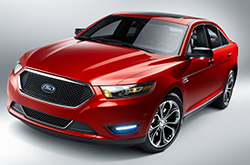 Does it seem to you like everything is getting smaller these days? Bedrooms, decks, yards, dogs? And especially cars. You used to be able to go on vacation in the family sedan. You can't head up I-75 carrying suitcases for two people in most of today's sedan trunks, let alone luggage for a whole family. Unless you're driving a 2015 Ford Taurus in Atlanta. With Taurus' 20 cubic feet of trunk space, you don't need to rent a trailer - or a different vehicle - to head out on a touring vacation. You'll also be in for a comfortable, enjoyable trip in your Taurus. As Kelly Blue Book points out in their 2015 Ford Taurus review, this full size sedan "serves up a comfortable and quiet ride," and it "soaks up hundreds of miles a day without breaking a sweat."
Besides the smooth comfort, the Taurus is packed with the new technology amenities that make trips pleasurable and safe. Even the base Taurus SE has Sync as standard equipment, enabling the driver to use voice control to make and receive calls, and even have incoming texts read aloud over the audio system. You can also verbally instruct Sync to play your phone's music selections. If you need to do some adroit backing, the standard rearview camera will help you keep your bumper scratch-free. Noted as one of the safest sedans on the road, the 2015 Taurus has a wide selection of available high-tech safety systems that will assist you with everything from staying in your lane should your attention wander, to automatically adjusting your cruise control speed to keep from closing in too much on the car ahead. Car and Driver's 2015 Ford Taurus review notes the list of features and options is long and impressive. Investigate them further by watching the 360-degree video tour at the bottom of this page.
How much of your day is spent in travel? If you answer three or four hours or more, you're spending a significant percentage of your day in your car. Don't you deserve to spend that time in an environment that is attractive, comfortable and soothing? Feel the difference a full-sized sedan can make and take a drive in a 2015 Ford Taurus in Atlanta.�