Duluth Dealer Researching the New C-Max C-Max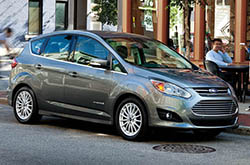 Ford's C-Max lineup continues to impress for the new model year. Both the C-Max Hybrid and Energi gain a couple of new features for 2016 that enhance the driving experience for all in-car occupants and complement each car's exterior design. In an effort to improve the technology offerings on the 2016 Ford C-Max, each model comes with Ford's brand-new SYNC 3 technology, a system that makes it easy for drivers to stay connected while on the road. Additionally, two new colors have also been added to the list of available paint color options, which you can read about in our 2016 Ford C-Max review below.
Potential Ford C-Max buyers will have the chance to drape their model in two new color options this year: Kona Blue and Shadow Black. The fresh shades spice up the car's appearance and attract new buyers across the country. Aside from these additions to the lineup, the 2016 Ford C-Max in Duluth is also now fitted with Ford's SYNC 3 infotainment system, which offers faster performance than Ford's previous MyFord Touch system. Offering navigation, smartphone integration and voice activation, the all-new system benefits both C-Max Hybrid and C-Max Energi owners.
For 2016, each C-Max model comes equipped with a 2.0L four-cylinder engine, an electric motor and lithium-ion battery. The displacement exerts a total of 188 horsepower on both models and is able to produce phenomenal EPA ratings. On the 2016 C-Max Hybrid in Duluth, the engine can deliver an EPA-estimated 40 mpg combined, 42 city and 37 highway, while the Energi produces an EPA-estimated 38 mpg combined. It also allows the Energi to go from zero to 60 mph in 7.8 seconds, which is fast for a plug-in hybrid.
If you'd like to learn more about the latest C-Max models, scroll down and continue to browse our 2016 Ford C-Max review.