Explorer Update from Duluth Ford Research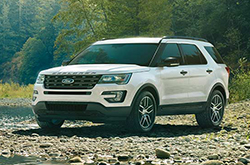 The 2016 Ford Explorer is a three-row crossover offering exceptional cargo space, smooth ride quality, a variety of innovative technologies and a reliable V-6 engine. Updated for the new model year, the Explorer now sports brand-new LED headlights, a grated grille, slight mechanical tweaks and has introduced an all-new Platinum model. With its refreshed components, new additions and reputation as one of the most reliable SUVs on the market, the Explorer will continue to succeed well into the future. Take a look at our 2016 Ford Explorer review below to learn more about America's best-selling SUV and each of its latest offerings.
The 2016 Ford Explorer in Duluth is a prime choice for crossover buyers. It comes with updated safety features and revised design elements; however, no modification on the Explorer is more prominent than the addition of the new Platinum model. The top-of-the-line trim is equipped with everything a buyer could possibly want, including adaptive cruise control, a dual-panel sunroof, updated interior materials and a Sony audio system. Additionally, the SUV receives every component featured on the Limited's 301A package, which includes automatic wipers, lane departure warning, rear cross-traffic alert and massaging front seats.
When it comes to engines, the 2016 Ford Explorer in Duluth offers three: a 3.5L V-6, turbo 3.5L V-6 and a brand-new turbo 2.3L four-cylinder. The standard 3.5L V-6 is standard on Base, XLT, and Limited trims and generates 290 horsepower. The turbo 3.6L V-6 produces 365 horsepower and is featured on Explorer Sport and Platinum trims. Generating 270 horsepower and 300 lb.-ft. of torque, the turbocharged 2.3L four-cylinder is the newest addition to the engine lineup. It replaces the previously available 2.0L EcoBoost four-cylinder and delivers an EPA-estimated 21 mpg combined, which makes it the most fuel-efficient displacement out of the bunch.
Want to find out more about the Explorer? Continue to browse our 2016 Ford Explorer review.