Duluth Taurus Research on the 2016 Ford Model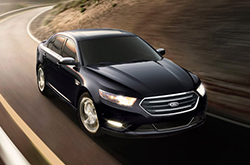 The well-crafted Ford Taurus is back on the market for the 2016 model year. Refined for the modern age and designed with today's car buyers in mind, the 2016 Ford Taurus is a standout model in the full-size sedan segment. Coming into the new model year, the Taurus is equipped with Ford's new SYNC 3 infotainment system, a fresh standard option on SE models and three new exterior paint colors. Be sure to take a look at our 2016 Ford Taurus review below to discover details about these new paint colors options and the sedan's latest features.
All-new paint colors have been added to the color palette for the 2016 Ford Taurus in Duluth. Blue Jeans, Guard and Shadow Black paint colors will now be available on the standard Taurus, while the SHO model will gain Absolut Black, Guard and Blue Jeans. In addition to these new options, the SE model of the sedan now comes standard with a rearview camera, while SYNC 3 technology is now outfitted on all models. A replacement for MyFord Touch, SYNC3 is responsive, intuitive and a great component for drivers who want to stay connected while on the go.
Powering the 2016 Ford Taurus in Duluth is a 3.5L V6 engine, delivering 288 horsepower and 254 lb.-ft. of torque. It comes paired with a six-speed automatic transmission and produces an EPA-estimated 23 mpg combined. In addition to this option, buyers can opt for a turbocharged 2.0L four-cylinder engine on both regular SE and front-wheel-drive SE models that generates 240 horsepower. It delivers a top-of-the-line EPA-estimated 26 mpg combined, which helps owners save at the gas pump. Additionally, if you choose to go with the Taurus SHO model, you'll be able to take advantage of a 3.5L V6, producing 365 horsepower and 350 lb.-ft. of torque.
For further details about the new Taurus and its available equipment, scroll down and continue browsing our 2016 Ford Taurus review.