If you are like most drivers in the local area, you regularly reach for your car's climate control knobs or buttons to create a comfortable interior environment to enjoy. Many days of the year are exceptionally warm, so the functionality of your Ford air conditioner is essential to having an enjoyable driving experience. All Ford components are designed with longevity, but all components can eventually develop repair issues because of an excessive amount of grime on them or because of extensive wear and tear. When this happens to your vehicle's air conditioner components, you may feel stressed by the unpleasant environment in your vehicle. While you could delay repairing the AC, a better idea is to reach out to our experienced and certified auto technicians for AC repair service.
Why Is My Car's AC Generating Warm Air?
Even when you turn the settings of your Ford AC system on the lowest level, you understandably want cool air to blow from the vents. Some drivers, however, discover that cool air is only generated for a minute or two before it is replaced with warm air. This is often caused by issues related to the valves, compressor clutch or fuses. Other drivers may only feel warm air coming from the vents. This is typically the result of damage to the blower, the condenser, the vacuum seals, the condenser or other AC components.
Why Is My AC System Only Blowing a Small Amount of Air Through the Vents?

As you adjust your AC system controls from low to high, you expect more air to blow through the vents. However, when the system is unresponsive in this way, you may find it challenging to feel as comfortable as possible in your Ford. There are a few common causes of this problem, including mold growth on the evaporator case, damaged seals and leaking hoses. Through a diagnostic service completed by our Ford repair technicians, you can learn what the specific cause of your AC's issue is and what steps we can take to repair the damage.
What Happens If My Air Conditioner Is Leaking?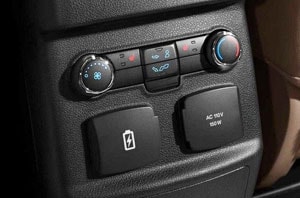 Many drivers equate a vehicle air conditioner leak to the small amount of liquid that drips below a parked car when the AC is running. This type of moisture is common and normal, and it is not the sign of an AC leak. The signs of a vehicular AC leak are usually subtle at first, and they can become more obvious as the leak becomes larger or more damaging. You may notice signs of a leak in your AC's hoses, valves or other components when the temperature or airflow controls are not responsive or are minimally responsive. One of the most damaging consequences associated with a small leak is that moisture can enter the system and combine with the refrigerant to create corrosion. This corrosion can eventually cause the need for a complete AC system replacement. Catching a leak soon and repairing the damage right away is essential.
Why Does My Car's Air Conditioner Smell Like a Dirty Gym Bag?
When your air conditioner is turned on, you may notice the powerful and overwhelming smell of musty old socks, a dirty gym bag or even rotting eggs. This is an unpleasant and common issue that is usually related to an old air filter that requires replacement. Another less common cause is mold or mildew growing on the evaporator case. This growth usually begins because a clogged line has resulted in water standing on the evaporator case. Our Ford AC repair technicians can quickly identify the cause of any issues that you are dealing with today, and we can repair the damage so that you can once again enjoy driving around in a cool, comfortable vehicle.
Check out some of our service specials and schedule your AC checkup today!