Ford transmission repair and maintenance keeps your vehicle operating at optimal performance. There is no question that Ford vehicles are built durable and made to last, but there are problems that can and will occur as the vehicle ages. Many drivers find their transmission ensures a bulk of these problems. Not to worry, however, because most transmission issues can be prevented or repaired by factory-trained technicians. We'd love to service your transmission when the time comes. Our team of experts service all vehicle makes and models. But, is it time to make that call? Here are a few questions and answers to common transmission repair questions that can make it easier to decide if your vehicle needs transmission repair services.
When Should I Change My Transmission Fluid?
Do what the manual says. This is the best piece of advice you'll ever receive when it is time to service your vehicle. The owner's manual is provided for a reason. When you follow the care instructions inside the owner's manual, it is easy to keep your vehicle running efficiently as you prevent many problems in the process.
What is Synthetic Transmission Fluid?

Synthetic transmission fluid is cheaper than petroleum-based fluids and used by most vehicle owners. This transmission fluid is resistant to oxidation so the breakdown isn't a major concern. Furthermore, synthetic transmission fluid saves money and time when it is time to replace this component in your vehicle.
What are the Signs I Need Transmission Repair?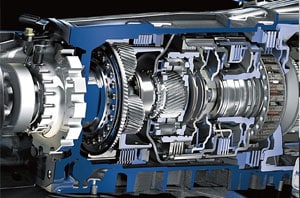 Many signs indicate trouble with the transmission that you should not ignore. If you notice a burning smell from underneath the hood, transmission fluid is likely the culprit. Other signs that indicate trouble include trouble shifting gears or not shifting gears at all, leaking fluids, and shaking when the vehicle changes gears.
What's the Cost of Transmission Repair?
Transmission repair costs vary from one job to the next. The type of repair that you need is one of the biggest factors that impact the costs of the repair. Request estimates to compare prices and take advantage of coupons and service specials to keep costs low regardless of the issues affecting your transmission.