2015 Ford Fusion Reviews from Gwinnett Place Ford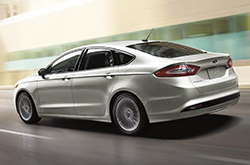 When it comes to family sedans, it's hard to beat a 2015 Ford Fusion in Atlanta. Aptly named, the Fusion combines looks, convenience and practicality into a single, appealing package. Sleekly styled, the Fusion offers Atlanta car shoppers three different fuel-efficient, turbocharged gas-powered engines in the Fusion S, SE and Titanium, plus alternative powertrains in the Fusion Hybrid and Fusion Energi plug-in hybrid to please even ardently green car buyers. KBB's 2015 Ford Fusion review pronounces Fusion as having "an efficiency-to-horsepower ratio for just about anybody." Fusion also offers an all-wheel drive option on SE and Titanium models, along with the latest in advanced, proactive safety technology, making it an excellent choice in the highly-competitive mid-sized sedan class.
Style and turbocharged performance matched with stellar EPA ratings, spacious interior and strong safety ratings covers most of the check boxes on our list. What's on your list? Rearview camera? That's newly standard on the base 2015 Ford Fusion, along with voice-controlled Sync for staying connected hands-free; while base standard MyKey contributes to parental peace of mind for those who share the family car with a teen driver. The spacious interior, comfortable seating and generous trunk also add to Fusion's appeal for families.
Most of the new and amazing high-tech safety systems you've heard about are available on the 2015 Ford Fusion; from adaptive cruise control with forward collision warning to blind spot alerts, lane departure warnings and even park assist. Unchanged in safety essentials (other than making the rearview camera part of the standard equipment), this is the same Fusion that earned the Insurance Institute for Highway Safety's Top Safety Pick Plus award last year, while the 2015 Ford Fusion earned the National Highway Traffic Safety Administration's 5-Star (top) overall safety rating.
That covers the practical, but how about the pleasurable? Not counting the entertainment included in connectivity, most of us prefer a vehicle that is enjoyable to drive, even if we want to save on fuel. Fusion will not disappoint. In their 2015 Ford Fusion review, KBB enthuses about the Fusion's "surprisingly sporty driving dynamic" and declares the Fusion will "please both the practical and performance-minded." For more convincing, read more below, or contact Gwinnett Place Ford about test driving a 2015 Ford Fusion in Atlanta.