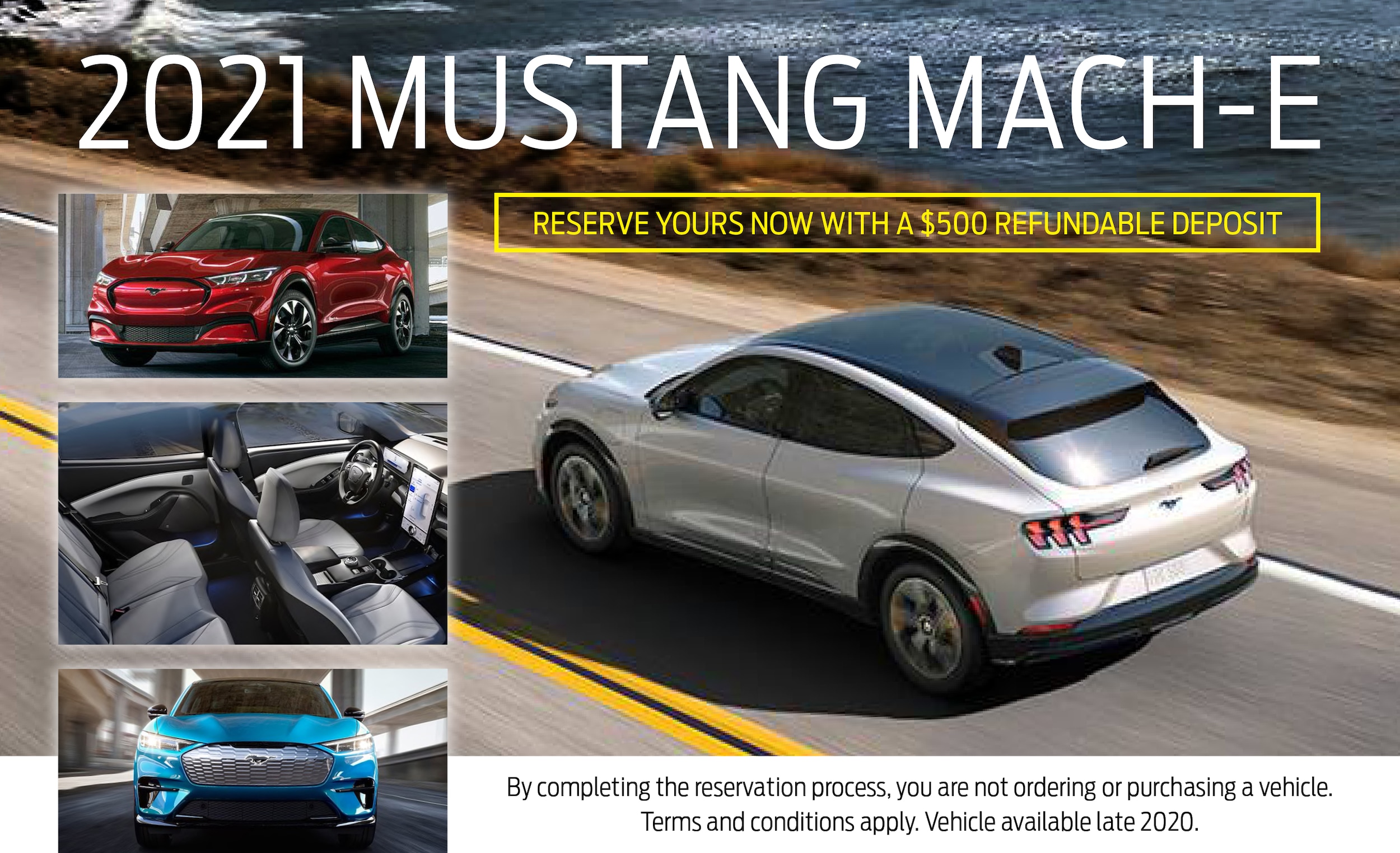 Meet the All-New 2021 Ford Mustang Mach-E!
The Ford Mustang is a top-notch vehicle by any count. But in 2021, the legendary Ford Mustang gets a new addition to the family called the Mach-E, which might steal your attention. The Mach-E is the first new Mustang in more than a half-century. It was carefully designed to impress, and it does just that in many ways. The 2021 Mustang Mach-E is perhaps best known for being a sporty crossover SUV with coupe-like styling. Moreover, its known for its all-electric engine and performance capabilities, including three different engines that range in power output from 255 HP to 459 HP on the GT. No matter which trim level of the Mach-E you get, you'll find an enticing variety of creature comforts and amenities, along with a stylish and powerful vehicle starting with the base trim level.
Mustang Mach-E Highlights
From front to back, there are many notable qualities of the 2021 Ford Mustang Mach-E. The newest Mustang turns heads at first glance with a captivating exterior defined by signature LED lighting elements in the front and turn signals in the back with LED bulbs. The Mach-E also comes with LED reflector headlights that have automatic high beams. Additional exterior features are found on higher-level trims, including red-painted brake calipers, a hands-free power liftgate, and unique exterior design elements.
Beneath the hood, the Ford Mustang Mach-E offers several optional engines. The base Mach-E is powered by an electric engine with a peak power output of 190 kW or 255 HP. This engine has the same power output regardless of whether you get the rear-wheel drive or all-wheel drive drivetrain. The mid-level engine produces 332 HP and 248 kW. The top engine, standard on the GT, generates just under 460 HP and about 342 kW. You have a choice of either electric all-wheel drive or rear-wheel drive with most models.
Inside, the Mach-E provides connectivity and convenience with a large 15.5-inch infotainment display screen and a 10.2-inch digital cluster. Navigation is standard, and you'll also get a premium Bang & Olufsen sound system integrated into the dashboard. A panoramic backup camera is standard, as are a wireless charging pad and a 115 kW DC charger. A glass panoramic sunroof is available on select models, while the GT offers performance seats with suede inserts.
Available Models
There are two basic models of the 2021 Ford Mustang Mach-E: a standard edition and the GT performance edition. The standard Mach-E is available in four trims, being the Select, Premium, First Edition, and California Route 1.
If you would like updates on the 2021 Mustang Mach-E or to learn more about the all-electric Ford Mustang, be sure to contact our dealership today.