Gwinnett Place Ford's 2016 Fusion Review and Research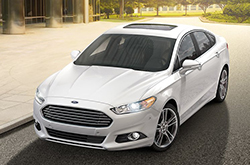 The Ford Fusion continues to be a design leader in the midsize segment coming into the 2016 model year. The model's sleek lines, trapezoidal grille and sporty aesthetic are still well admired by critics and Ford fans alike. In addition to its design highlights, the 2016 Ford Fusion emerges back on the market with a set of new package options and a redesigned center stack. Each of the fresh components complement the model's previously available features and appeal to new car buyers searching for a modern midsize sedan. For more information about these additions and other amenities offered on the latest Fusion, take a look at our 2016 Ford Fusion review below.
The second-generation Ford Fusion has been a hit on the market since it arrived in 2013 and Ford has plans to keep that momentum going in 2016. To attract more buyers across the market, Ford has redesigned the center stack in the Fusion to offer a simplified user experience and added two new package options to the lineup: the S Appearance Package and SE Cold Weather Package. The former is a top choice for buyers who want to spice up their Fusion's look, adding fog lamps, 18-inch alloy painted Ebony black wheels and a rear spoiler to the sedan. The SE Cold Weather Package helps drivers stay comfortable inside the car on cold days by introducing heated seats, remote start and all-weather floor mats to the 2016 Ford Fusion in Duluth. Both package options are beneficial to buyers in the market for a car today and cater to those with different needs.
Depending on which model you choose, three engine options are offered on the 2016 Ford Fusion in Duluth. The S and SE models sport a standard 2.5L four-cylinder, delivering 175 horsepower; however, you can also choose to outfit the SE with either a 1.5L turbo four-cylinder, producing 181 horsepower, or a 2.0L turbo four-cylinder, outputting 240 horsepower. The top-of-the-line Fusion Titanium comes standard with the aforementioned 2.0L turbo engine, which can be paired with all-wheel drive. When equipped with this setup, the sedan achieves an EPA-estimated 25 mpg combined and can go from zero to 60 mph in 6.9 seconds.
If you want to discover more details about the Fusion and its highlights, scroll down to keep browsing our 2016 Ford Fusion review.