What's New for the 2022 Ford Maverick?
The 2022 Ford Maverick is a unique truck because it's smaller than most models in the industry and weighs less than a half-ton. The exterior has a friendly design, making it easy to recognize on the road. It's built on a crossover platform with 8.3 inches of ground clearance. The car packs a lot of power for its size and can haul 1,500 pounds in the bed. It can even tow up to 2,000 pounds.
2022 Ford Maverick Trims & Features
Three different trim levels come with the 2022 Ford Maverick, which includes the XL, XLT, and the Lariat. The interior of this model is built to be as useful as the bed and features plenty of hidden storage compartments. The backseat area features a Ford Integrated Tether System. The cabin also has unique features like trash bins, hooks for grocery bags, and storage dividers, making it useful as a place you can work. The top features that come with the model include an 8.0-inch center screen with Android Auto and Apple CarPlay for plenty of connectivity. The Fordpass Connect Wi-Fi comes standard in all trims.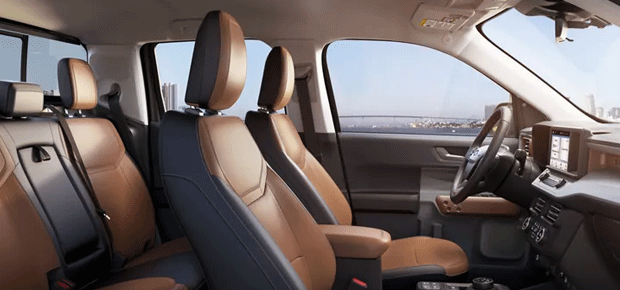 2022 Ford Maverick Horsepower
The Maverick is built with a 2.0-liter turbo I4 engine, which generates 250 horsepower with 277 lb-ft of torque. It also features an eight-speed automotive transmission. The hybrid version is built with a 2.5-liter hybrid I4 engine and delivers 162 horsepower with 155 lb-ft of torque. It has a CVT transmission.
2022 Ford Maverick Safety
Many safety and driver assistance systems come with the 2022 Ford Maverick. The vehicle comes standard with automatic emergency braking, which you won't find on all trucks in its class. Forward collision warning and automatic high beams also come standard to reduce the risk of an accident and improve visibility on the road. Optional safety features that drivers can choose to purchase include adaptive cruise control, rear cross-traffic warning, and blind-spot warning. The large windows on each side of the truck and its smaller size also provide excellent visibility and help to improve the driver's confidence in operating the vehicle.
Visit Us in Duluth Today
If you want to learn more about the 2022 Ford Maverick and what it offers to drivers, feel free to give us a call or stop by our dealership today. Our friendly sales team will be happy to help you and answer your questions.
Maverick Questions
* Indicates a required field